Meet Jean-Michel Perruchon, pastry Chef and best worker in France Internationally renowned pastry chef, co-founder and director of the Bellouet school in Paris, Jean-Michel Perruchon has a remarkable career, driven by his passion for pastry and transmission. Originally from Brittany, Jean-Michel Perruchon discovered pastry-making at the age of 11 by helping out a neighboring baker-pastry […]
Meet Jean-Michel Perruchon, pastry Chef and best worker in France
Internationally renowned pastry chef, co-founder and director of the Bellouet school in Paris, Jean-Michel Perruchon has a remarkable career, driven by his passion for pastry and transmission.
Originally from Brittany, Jean-Michel Perruchon discovered pastry-making at the age of 11 by helping out a neighboring baker-pastry chef. From apprentice to pastry chef, he trained in various prestigious Houses : Fauchon, Lenôtre, Pavillon de l'Elysée, Pierre Hermé… In 1989, he decided to join forces with Joël Bellouet, MOF and author of the Encyclopedia of Chocolate and Confectionery and to found a pastry school in Paris. In 1993, he won the Best Worker of France competition. It is a complete and faultless career !
Jean-Michel Perruchon and Trablit: a story that lasts
" Passes-moi le Trablit ", that's how the brand name of this coffee extract became part of the vocabulary used by every pastry chef. "This coffee extract has been used in all the old pastry houses for generations," says Jean-Michel Perruchon. He remembers his years of apprenticeship during which not an éclair or a coffee religious was made without Trablit.
Jean-Michel Perruchon is a faithful ambassador and partner of Trablit. He has produced a number of recipe cards for the brand. He teaches his trainees from all over the world, the different ways to integrate the liquid coffee extract but also the coffee or pistachio flavored pastes in creams, mousses and other appliances.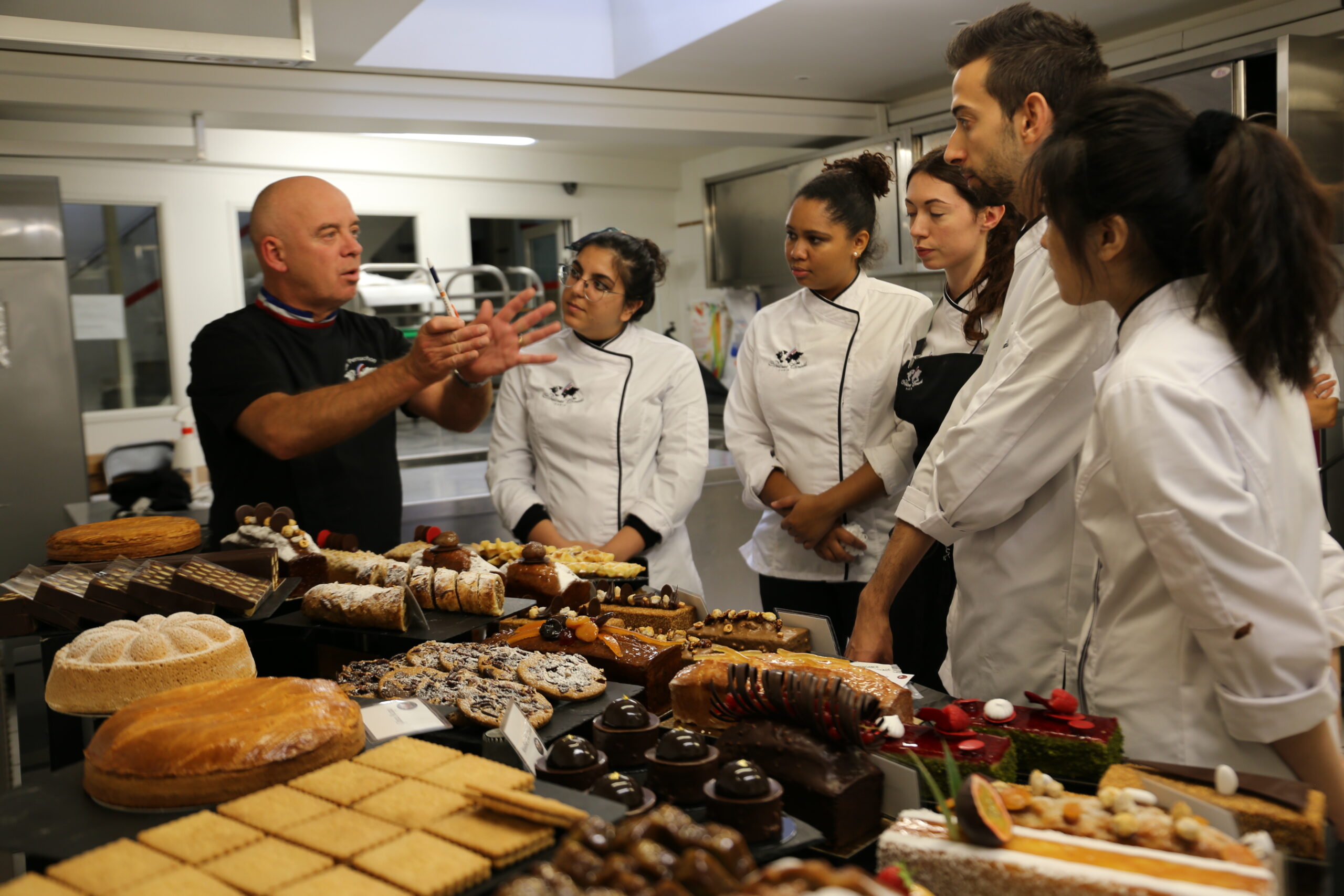 Trablit : a coffee extract like no other
The use of this ingredient with an incomparable taste of coffee and caramel continues to be taught in all pastry schools in the great tradition but also for the elaboration of the latest creations of cakes or entremets. Moreover, consumers are sensitive to the origins and naturalness of the ingredients that make up a food product. Trablit 1845, is a 100% natural product without additives or preservatives. Some pastry chefs do not hesitate to use it to reinforce the taste and the color of a cream made with an infusion of coffee beans or ground coffee.
The little extras
Its trademark ? the classic revisited in a refined, gourmet and colorful style.
His Proust's madeleine ? the apple turnover and the salted butter caramel, memories of his childhood and his Breton origins